Picinguaba and Catuçaba have the double vocation to be healing centers, and schools of nature. The large natural spaces and abundant wildlife, farm animals roaming freely, pristine forest and deserted beaches, are balm for the body and the soul that invite to experience a communion with nature that can be a journey of self-discovery, and bring clarity on the true purpose of our lives.
We are committed to the vision that we, humans, are part of nature: we are nature; we are not separated from it. If we integrate this deeper perspective, then our actions will be different, and many contemporary issues can be solved, because we will put life back at the center. We will evolve towards a higher vision: one of the love for the Earth and all its living inhabitants, one in which we can recognize and acknowledge the sacred in Nature and the oneness of all.
We have created many different perspectives at the service of this vision: off-grid architecture, art in Nature, cultivating and eating our own food, adopting agro-ecological practices, implementing new integrated economic systems, based on a concept of self-sustainability inspired by monasteries.
We welcome visitors to experience an environment that reflects our own life commitment: a story in which we have made the choice to live fully this immersive experience ourselves, with the Earth as our inspiration.
We Are Nature – WAN – ONE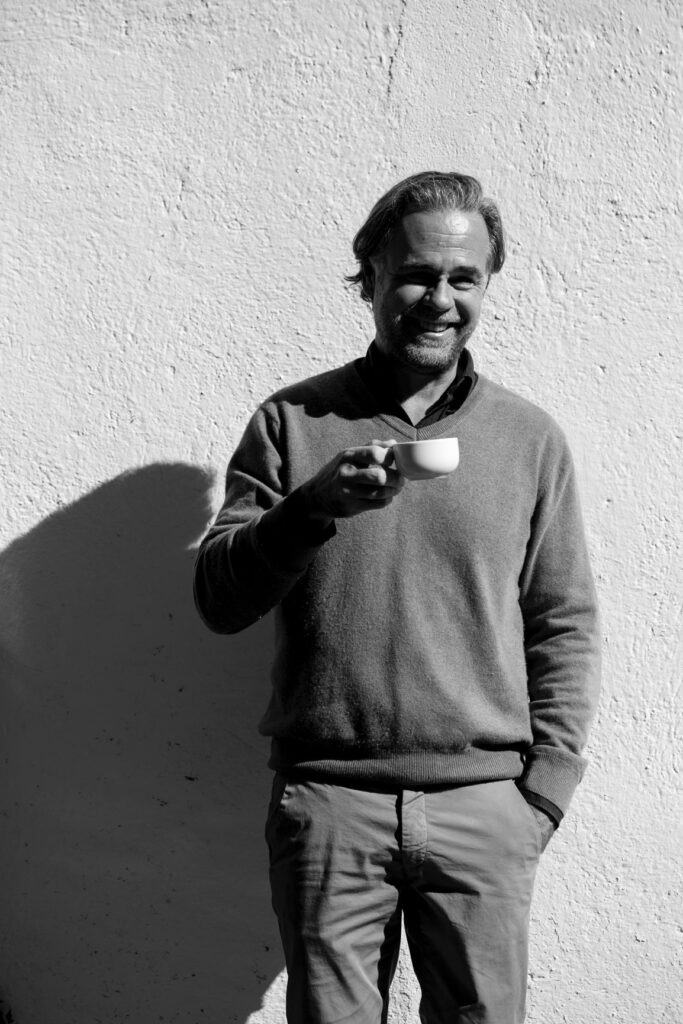 French born in Burgundy, Emmanuel grew up and studied Political Sciences and Economics in France and the United States. A nature lover and adventurer, his true education from an early age was to travel alone to some of the most remote regions of the planet, seeking out unspoilt territories where man and nature could still be in harmony.
Over the years, he lived and work in Portugal, Bolivia, and England, before eventually settling in Brazil in 1998. After a few years as an executive in Sao Paulo, he discovered the remote village of Picinguaba, and decided to abandon his "career" to build there his dream of a meaningful life in nature and a place to gather people sharing his values: simplicity, authenticity and good food. Catuçaba, half-way between Sao Paulo and Picinguaba, called him a few years later as the place to create the next chapter of the story: a large land committed to the regeneration of people and nature.
Since then, he has been dedicating himself to the exploration of our link with nature. Living away from the turmoil of the world and yet deeply connected to it, Emmanuel's contribution has been to experiment and share another way of living. Picinguaba and Catuçaba are the concrete application of those learnings over the years. Emmanuel is married with Bianca and the father of 3 children.
BIANCA BORGHETTI
Executive Director
Born in Rio Grande do Sul in the South of Brazil, Bianca lived her childhood between the countryside and the city of Porto Alegre, until she moved to São Paulo and later to Milan and New York. She holds an MBA from Cornell University. Her work in the business world took place for a few years in the areas of corporate sustainability, and then entrepreneurship: she co-created an investment fund.
But she soon felt the call to return to nature, and the search for a responsible contribution to the world began to fully guide her choices. Back from New York, she spent a year studying ancestral wisdom, education, healing and spiritual development, before she dedicated herself to a project with her family, Voador, that soon establish itself as one of the first alternative "forest schools" for families in Brazil.
It didn't take long before she felt the calling of Catuçaba and Picinguaba and joined forces with Emmanuel in 2016, to expand together the scope of their lives and projects. Since then, they have been working, living and learning together at the service of the We Are Nature vision.
We haven't done all this alone: we are a group of individuals of many backgrounds and origins, but sharing a unified vision of life in those places, that all contributed.
We are Antoni Silveiro, Luis Pedro, Marciel, Félix, Tomás, Dona Helena, Bentão, Dona Maria, Kurt, Tadeu, Rosangela, Juliana, Eva, Laura, Gordo, Taquara, Damião, Alexandre, Carol, Elinho, Wendel, Arvelino, Dona Clarice, Dona Teresinha, Alejandro, Beto, Josiane, Gabriela, Marcio, Paulo, Miro, Sergio, Josinaldo, Felipe, Simon, Fabricio, Joao Paulo, Seu Vicente, Seu Roque, Yuta, Kawakanamu, Kautá, Piutisin Mussun, Uruhu, Paintxiuma, Mamo Luis, Mamo Evangelista, Oseias, Fausto, Priscila and Manolo, Pascoal, Rose, Meneguetti, Ana Maria, Suel, Paulo, Arthur, Cris, Lelinho, Didinho, Nilson, Francisco, Clarissa, James, Lia, Isa, Mirela, Joadson, Rafael, Daniela, Marilza, Rosemara, Lenita, Lidiane, Daniel, Fabiano, Baiano, Claudio, Pega Leve, Nando, Bruna, Felipe, René, Roseli, David, Preta, Rosa, Leci, Jacqueline, Talia, Jumara, Claudia, Cristobal, Thierry, Luis, Ramon, Oday, Benoit, Sonia, Eli, Sophie, Julian, Erik, Geoffroy, Nadine, Kiko, Astrid, Pascale, Josinaldo, Alexandra, Marcela, Ruy, Idalia, Bajeco, Paulo, Mieko, Pasha, Ethan, Fernanda, Bruno, Tinko, Luciano, Andres, Lucas, Marcio, Lair, Arthur, Kamel, Hugo, Humberto, Derlon, Miriam, Matthieu, Vilma, Gustavo, Vascao, Carreiro, Christophe, Filipa, Fabi, Joao, Rodrigo, Elda, Marc, Maira, Marc, Mariana, Laure, Phillipe, Sofia, Eva, Stela, James, Ricardo, Bia, Thais, Rosana, Duda, Lidiane, Celso, Laura, Dito, Carmen, Felipe, Paulo, Leonardo, Véronique, Laetitia, Ben, Falcão, Apolo, Harmonia, Mara, Cobre, Safira, Boneca, Princesa, Mulata, Pioneiro, Tio Nene, Bailarina, Elegante, Cazuza, Desenho, Ventania, Hawk, Bamboo, Cristal, Esmeralda, Cazuza, Pitanga, Caio, Caia, Dinda, Osmose, Tuctu, Kimaya, Clark and Chica.
"What we are really looking for when we travel is meaning. We unconsciously look for the energy that will put us back in touch with ourselves. This is the energy of the sacredness of the Earth, best found in nature. This heals us and gives us the insights and revelations that we need right now in our lives."

Emmanuel Rengade

Founder
Visit our blog
Fazenda Catuçaba | Pousada Picinguaba - SP Brasil 2023
Privacy Policy | About this website